Daily Tasks
photo: tall:
This is the tall tree outside our kitchen window. The branch scrapes against the bay window when it's windy, which is extremely annoying. I don't think they anticipated how much the tree would grow when they planted it so close to the house.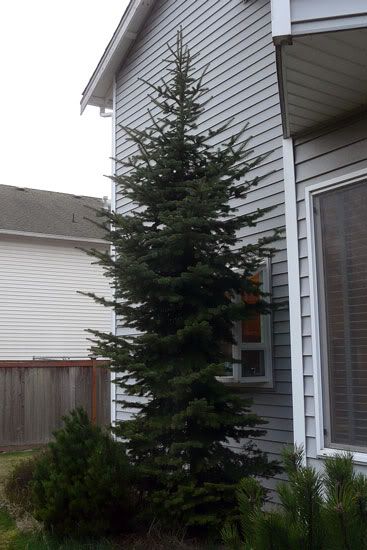 stitching:
finished the 7-hour stint on Blue Moon. This is 14 hours so far, for a total of 1,383 stitches. It was slower going this round - LOTS of confetti! Unfortunately, this picture doesn't show the sparklies in the moon (Kreinik #4 braid in 032).
de-clutter:
15 minutes in master bedroom.
Yearly Tasks
knitting
: More rows on Mom's scarf, plus I started the baby cardi. I'm having trouble with one of the two stitch increases that are on either side of the stitch markers so I'm changing the method. So far, it doesn't look too odd. I think the pink shades will show up on the front of the sweater - at least I hope it does, since this is for a little girl.