Last day of vacation!
Daily Tasks
picture: No one said every day's photo would be exciting. Here are the mailboxes for our block. Ours is the one in the middle with the rusted bottom. A funny story about these mailboxes. When we first moved into this development, there was a homeowner's meeting. One neighbor wanted these mailboxes torn down because she felt they were a tragedy waiting to happen! Someone was going to poke their eye out on that roof when reaching for their mail. That was my last homeowner's meeting.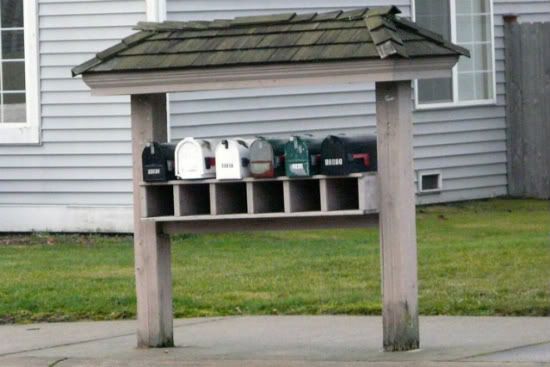 stitching: 1 hour, 1 minute on Mirabilia's Fairy Flora
de-clutter: 15 minutes on a kitchen cabinet
Weekly Tasks
walking: .8 mile on treadmill. I probably won't get the 10 miles done for the week, but I'm starting slow.
Yearly Tasks
Scrapscription album: Worked on "Merry and Bright", one of the 2010 Christmas albums. Got the background paper adhered to all the chipboard shapes.